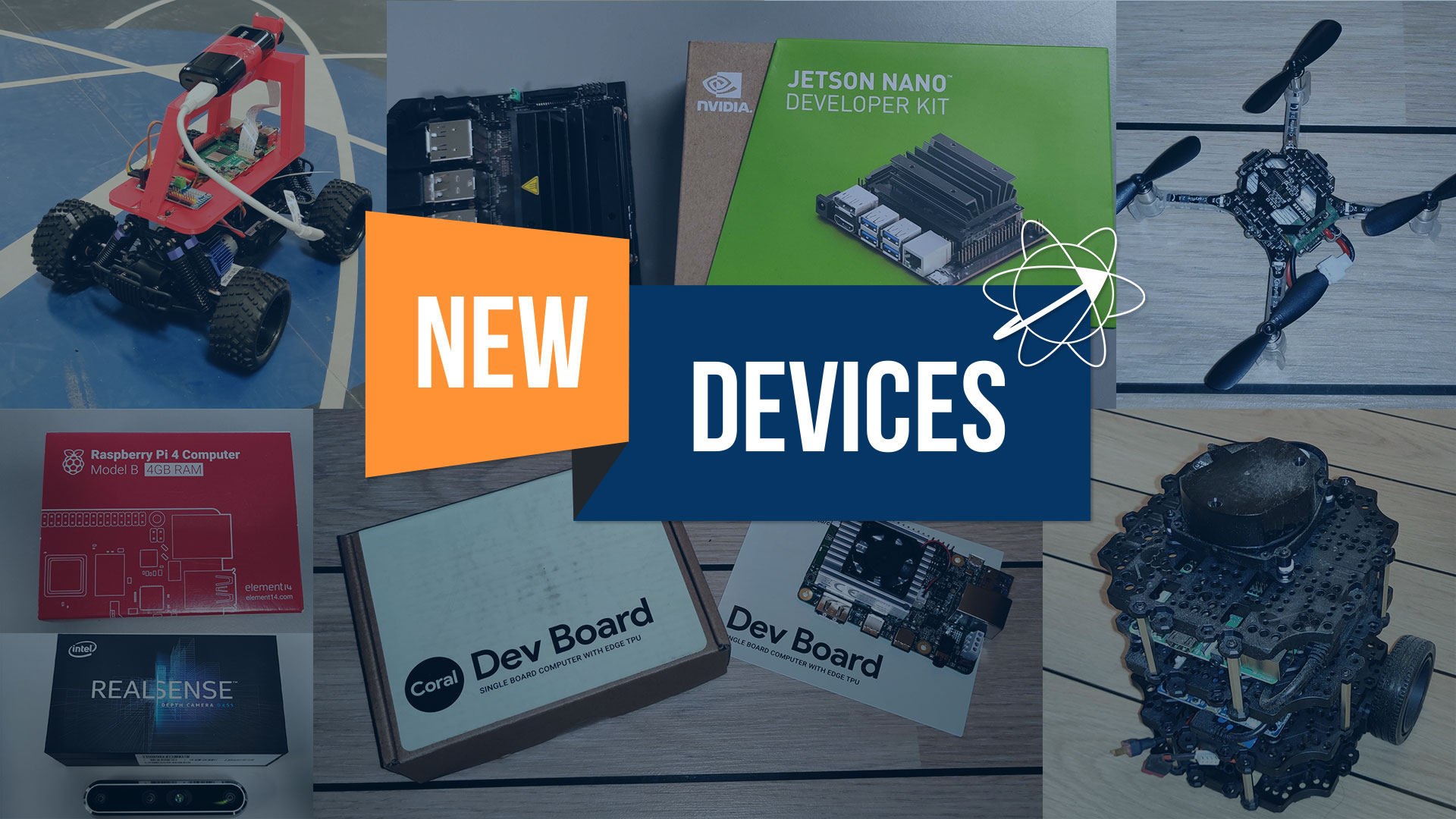 Through the fall semester, our Lab Manager, Søren, has been busy browsing the web for new interesting gadgets to give you better opportunities to gain hand-on experience with technologies in the fields of AI, computer vision and robotics. These devices are available for student projects or if you want to do some experimenting on your own to learn more about these fields.
Below, you can read about some of our new devices – most of them have already been added to the ORBIT Resource management system, ORMS. 
Google Coral
Coral is a complete toolkit that can be used to build products with local AI. The on-device inferencing capabilities allow you to build products that are efficient, private, fast and offline.
Nvidia Jetson Nano
NVIDIA® Jetson Nano™ Developer Kit is a small, powerful computer that lets you run multiple neural networks in parallel for applications like image classification, object detection, segmentation, and speech processing. All in an easy-to-use platform that runs on as little as 5 watts.
Read more about the Nvidia Jetson Nano Developer Kit.
Bitcraze Crazyflie
Nano quadcopter that can be controlled from a BLE (Bluetooth Low Energy)-enabled smartphone or controlled from a computer using the USB radio dongle. Both firmware and hardware is open source.
The Multi-ranger deck uses five laser sensors to measure the distance in the directions front/back/left/right/up. This enables the Crazyflie to detect proximity to objects at up to four meters.
A flow deck gives the Crazyflie 2.X the ability to understand when it is moving in any direction.
Donkey Car
Donkey Car is a small-scale remote-controlled car mounted with a Raspberry Pi, as sensor and a camera. It has an open-source DIY platform with a high-level self-driving library written in Python. A Donkey Car consists of standalone, independently configurable components that can be combined to make a car. By training your machine learning models, you can get it to navigate around a small indoor track and optimize it for the fastest lap time while still staying on the track.
When the situation allows, we will be hosting another Donkey Car event in collaboration with our partner, Trifork. So keep an eye on upcoming events e.g. in our Facebook event feed. 
Turtlebot Burger
TurtleBot3 is a new generation mobile robot that is modular, compact and customizable. You can explore Robot Operating Systems and create exciting applications for education, research and product development. It includes charger, battery, servo motors, LiDAR, Raspberry Pi, OpenCR and IMU.
Intel RealSense D455 depth camera
The latest edition of the RealSense depth cameras with both depth and RGB cameras with global shutter. It includes an IMU to refine its depth awareness in situations where the camera moves like on a robot or drone.
Raspberry Pi 4
Last but not least, we also got some Raspberry Pi 4 single-board computers running Linux that can be used for countless projects. 
Read more about Raspberry Pi 4.
Unfortunately, Aarhus University is still in lockdown and therefore, it is a little more challenging to drop by to borrow equipment from us. But if you are interested in any of these devices – or any other devices from ORMS – reach out to Søren (smd@ece.au.dk), and he will let you know when and if you can schedule a pickup based on the Corona restrictions at that time. 
We look forward to seeing you all in the lab post-Corona!