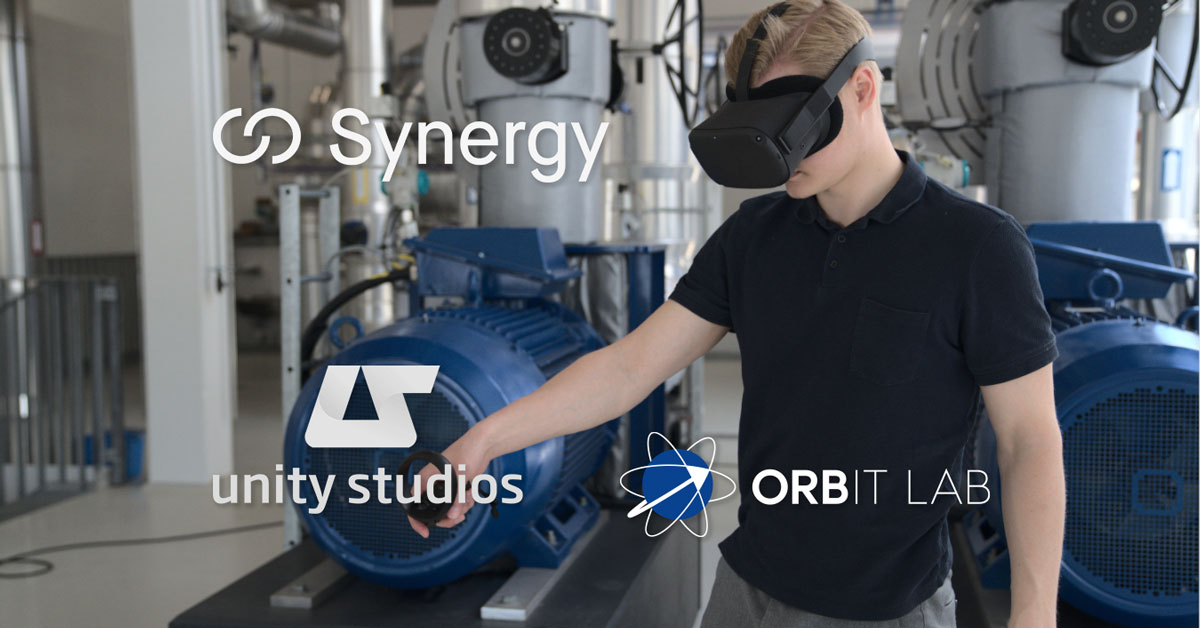 ORBIT Lab and the Aarhus-based software development and consulting company, Unity Studios, are forming a partnership to increase knowledge about and experience with XR technology (Virtual Reality, Augmented Reality, Mixed Reality).
The industry is beginning to spot – and invest in – XR technology, which still has great unexploited potential. Grundfos, one of Unity Studios' largest customers, uses XR technology, for example, to hold customer meetings, train employees and provide support from a distance. 
As the first and only certified Microsoft Mixed Reality Partner in Denmark, and with customers such as Saxo Bank, Total, Haldor Topsøe and Novo Nordisk, Unity Studios is one of the frontrunners in getting the technologies integrated into leading Danish companies.
However, for students who want to learn about and work with the technology, there are still barriers; equipment is expensive and a certain level of technical skills is required to start programming. Now, Unity Studios want to give students in ORBIT Lab access to their XR platform, Synergy, thus enabling them to work with the new technology in their projects. 
Student licenses in exchange for valuable insights
Among students, there is great interest in the opportunities that lie in VR, and each semester, the proportion of projects where VR is used for purposes other than entertainment increases. Recently, for example, a group made a VR graduation project with the purpose of teaching primary school children to provide first aid. 
ORBIT Lab is an innovation hub within the engineering fields of electronics and computer technology at AU, where students, researchers, startups and industry can meet around their common interest in new technologies. Therefore, it makes sense that the members of the ORBIT Lab's Community will get the opportunity to try the Synergy platform. 
Mads Troelsgaard, CEO of Unity Studios, says about the partnership:
"We support initiatives that, like ORBIT Lab, both contribute positively to the study environment and promote the local tech and entrepreneurial ecosystem. By giving students access to use our Synergy platform for their projects, we obtain more great use cases. At the same time, we get the opportunity to listen to feedback based on their user experience."  
Hands-on technology experience
One of the cornerstones of ORBIT Lab is the collaboration with the business community. It contributes positively to the entire ORBIT Lab community, and for the students, it also provides an insight into what exciting opportunities lie ahead for working with different technologies after graduation. 
Head of ORBIT Lab, Kasper Løvborg Jensen, says:
"We are pleased with the interest we experience from organizations that in one way or another want to support ORBIT Lab – some by sharing their knowledge of new technologies and others by to donate equipment or, like Unity Studios, licenses for a product that took time and effort to develop."
Students who want to try the Synergy XR platform must contact Lab Manager in ORBIT Lab, Søren Møller Dath: smd@ece.au.dk.
About Synergy XR
Synergy is a new platform that allows for the possibility to combine VR, AR and MR on the same platform. Users can run virtual meetings, view 3D product visualizations in AR and collaborate via remote support in MR using Microsoft's HoloLens2 glasses. Everything is connected in a cloud solution that provides easy to access from VR headsets, HoloLens glasses or iPhones.  Learn more about Synergy.
Experience Unity Studios CTO, Sune Wolff, talk about the Synergy XR platform in this video from an ORBIT Lab Live Session in May this year: https://www.facebook.com/orbitlab.dk/videos/718157832338243/